Do you know what are the rapidly growing sub-sectors in the IT industry? Undoubtedly, it is Data Science that has become a significant part of business operations. It is the one that is transforming the way we approach data and analytics in the workplace and in our day-to-day lives.

Whether it is the financial sector, healthcare sector, or an online retailer like Amazon, data collection and analysis play a key role in predicting the future of every new market area. The main reason behind the popularity of data science is that it provides a way for businesses to utilize data effectively.
In the near future, no organization will be able to ignore the significance of data science in business as data is utilized in every aspect of our lives. Through data science, businesses can plan for greater outcomes by evaluating and monitoring performance standards, and replication of operations using the existing data.
In a nutshell, data science paves the way for better decision-making, developing quality products, effective business management, forecasting using predictive analysis, evaluating business resolutions, fraud and risk management, recruiting automation, and so on.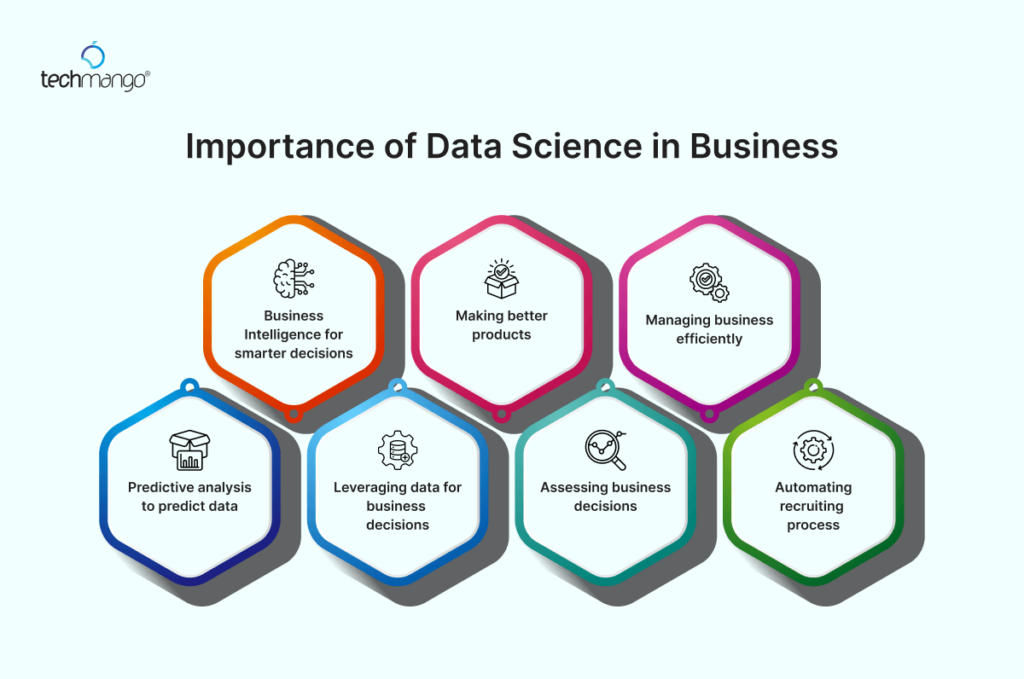 So, as an ambitious entrepreneur, it becomes a must for you to stay acquainted with some remarkable data science trends and concepts to stand out from the crowd.
In this blog, you will gain insight into some latest data science trends and the perfect place to get an apt data science service for your business.
Let's get started!
Top trends in Data Science to watch out for in 2023
Auto ML
Automated machine learning (Auto ML) platforms are gaining widespread popularity these days and are taking over different aspects of the data science lifecycle. Auto ML platforms automate tasks like feature engineering, data sourcing, conducting several machine learning experiments, selecting appropriate and effective models, and deploying them in production environments.
TinyML
It is a type of ML that contracts deep learning networks so it can fit on any hardware. Its tiny form factor, versatility, and cost-effectiveness make it one of the most interesting trends in the data science field, with which numerous apps can be built. It sets AI on tiny hardware pieces and solves the issues that come with embedded AI, which is space and power. Applications of TinyML include gesture recognition, object recognition, machine monitoring, keyboard spotting, and so on.
Data-driven consumer experience
It constitutes one of the brand-new trends in data science. The idea is that businesses utilize data in order to provide valuable and enjoyable experiences. They are making use of smart ways to enhance processes and make them more convenient. To say in a nutshell, businesses have started to offer services and goods that are personalized. In the upcoming years, people in data science will focus on determining new ways to leverage customer data to create unique and better customer service and experiences.
A boom in cloud migration
Enterprises will start preparing for app migration by gathering their on-premise apps. This will eventually be a result of chip shortages, cost considerations, and the requirement for scalability. Companies will start migrating their data warehouses, online transaction processing systems, analytics, web applications, and ETL to the cloud. Businesses that already have multi-cloud deployments will port their data processing and analytics. Thereby, they will be able to move from one cloud provider to another seamlessly.
Growth of predictive analytics
Predictive analytics is all about foreseeing future trends with the help of statistical techniques and tools using past and existing data. With the help of predictive analytics, businesses can make insightful decisions that will make them grow. With the data-driven insights from predictive analytics, business owners can think of the way they want to strategize and reform their goals.
Augmented consumer interfaces
Near future will have an AI agent in the form of an interface in order to help you with shopping. You can purchase products in VR, and get an idea about the product through audio or an augmented consumer interface. Augment consumer interfaces can take numerous forms, it could be a communication interface or AR on mobile devices. Zoom meetings may also be replaced by new augmented consumer interfaces. The technologies that will give a boost to augmented consumer interfaces are VR, AR, IoT, BCI, AI agents, AI speakers, and so on. All of these will evolve into a new paradigm where AI is going to be the intermediary
Focus on Edge Intelligence
Edge computing, also known as edge intelligence involves conducting data collection and analysis in close proximity to the network. Embracing edge computing has now become a main priority for industries that are looking to harness the potential of IoT and data transformation services. Businesses are integrating edge computing into their systems to attain scalability, flexibility, and reliability, and elevate the entire enterprise performance.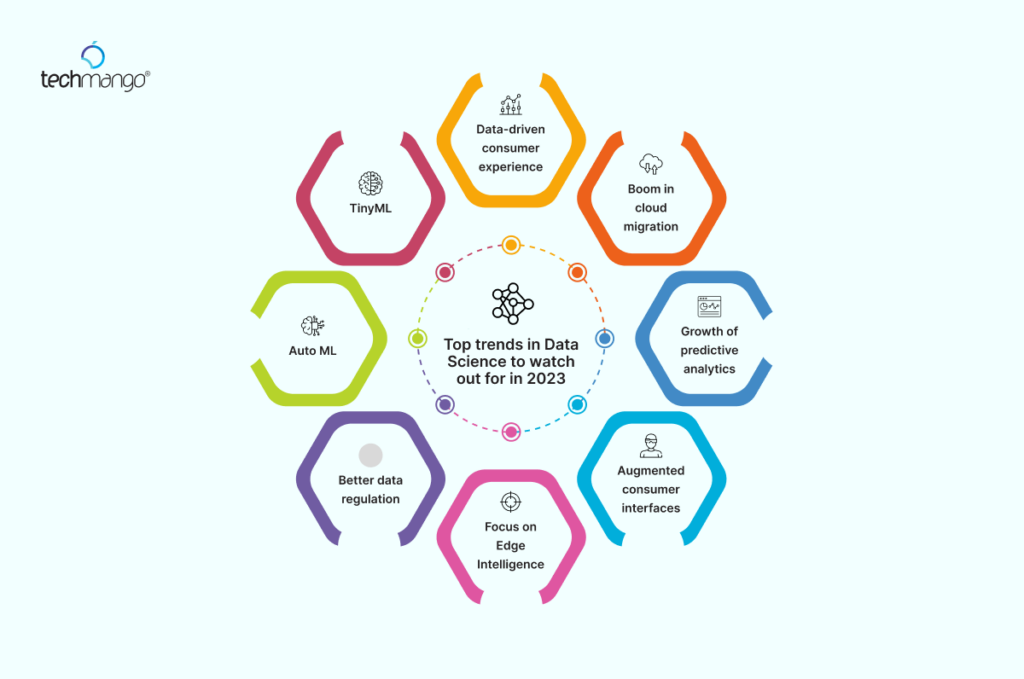 I hope you are now clear about the data science trends that are going to shape the future of the industry in the near future. You will now clear that as an aspiring proprietor, it becomes a must for you to get unique and felicitous data science services in order to utilize the power of data to gain insights, make better decisions, and boost business growth. But, you will have a question now.
Where can I get an apt data science service for my business?
To get an ideal data science service, it becomes essential to approach a renowned IT service provider like Techmango which has excelled in delivering top-notch digital business solutions over the years.
Wondering Why Techmango?
Continue to read the blog
Techmango's unique Data Science service offerings
Techmango has rich expertise in delivering reliable IT services and solutions and embracing cutting-edge technologies. We also have a proven track record of offering world-class data science services matching our client's needs and expectations. With a team of 400+ skilled professionals, we have completed around 180+ successful projects globally. We work closely with our clients and help them meet their business goals despite any restrictions.
When it comes to data science services, we implement various state-of-the-art tools and techniques such as Python, Amazon SageMaker, Azure Machine Learning, Azure Cognitive Services, TensorFlow, Keras, OpenCV, PyTorch, and so on.
Techmango's unique Data Science service offerings include Data Analysis and Visualization, Predictive Analysis, Machine Learning, Data Mining, AI Integration Consulting, AI Development Consulting, Big Data Analytics, Data Science Strategy and Consulting.
Techmango can serve you as your most trusted data science service provider with flexible engagement models such as
Offshore data science service partnership
Center of Excellence for complete data science services and solutions
Dedicated team/Extended IT arm support/Resource provider for data science projects
IT consulting services for your complex projects
Excellent Data Science services at your doorstep…
I hope you now understand why approaching Techmango will be the best way to get impeccable data science services for your varying business needs.
Take a quick glance at our portfolio to learn about our rich set of data science services and solutions. Contact us now to get a free consultation from our adept professionals at your convenience.
Comment below if you wish to see some exciting additions to this rapidly evolving topic in the highly competitive market.