In today's digital world, businesses across industries are making the best use of technology in order to streamline their operations, boost customer experiences, and gain a competitive edge. Even though off-the-shelf software solutions meet general needs, they fail to address specific business requirements. Custom software development came as a solution for this by creating software apps or systems designed specifically to meet the unique needs of businesses.

Custom software solutions are built from scratch and provide unmatchable scalability and flexibility. They can optimize workflows, automate processes, and provide personalized experiences tailored to the business's requirements. Some of the other remarkable advantages of custom software development include competitive advantage, ownership and control, long-term cost savings, and so on.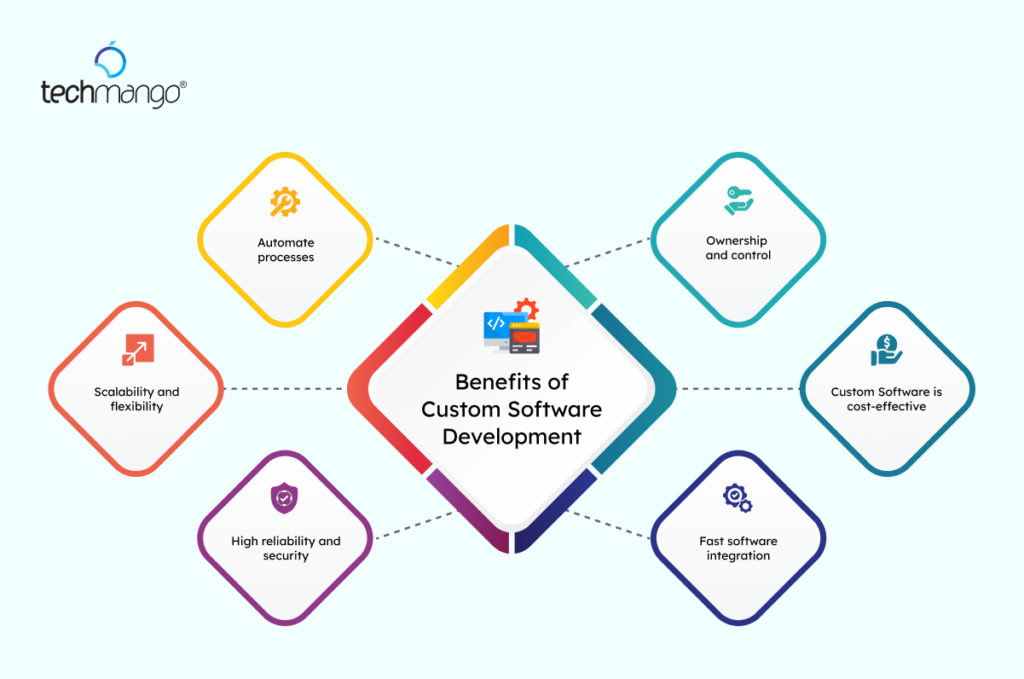 I hope you now understand the significance of custom software development for businesses in this current market trend.
But as an ambitious proprietor looking to get ahead in your business, you also need to get acquainted with software development trends that are constantly evolving to fulfill the demands of a continuously changing technological landscape. In a nutshell, staying up-to-date with the trends and future innovations in custom software development is important to remain competitive in the market.
Let's plunge into the interesting topics of software development.
Future innovations in custom software development
New facets of cloud computing
Cloud computing is not new nowadays as many businesses are utilizing the cloud to elevate their performance rates. Cloud is gaining traction in software development due to its capabilities such as enhancing security, cost savings, scalability, and reliability.
Blockchain technology
It is emerging as a game-changing technology in numerous fields, including custom software development. Blockchain provides a decentralized, secure, and transparent environment to store and share information, thereby making it an apt solution for apps that require high reliability and security levels. In the coming years, block technology will play a key role in custom software development to arrive at secure and decentralized solutions
Extended reality
Extended reality encompasses certain latest technologies such as Augmented Reality (AR), Virtual Reality (VR), and Mixed Reality (MR). These technologies have extensive potential in different industries and provide immersive experiences to users. Leveraging XR in software development can pave the way for creating engaging and interactive apps and improving user experience. In the near future, we can expect many custom software development solutions incorporating XR technologies. 
Edge computing
It is a distributed computing model that allows data processing and analysis to take place closer to the data source, rather than on centralized servers. With edge computing, businesses can enhance performance, minimize latency, and improve security. We can clearly witness innumerable businesses utilizing edge-computing technologies in the custom software development processes to arrive at more effective and faster applications.
Integration of custom software development with AI and machine learning
Software development is more likely to incorporate certain technologies such as machine learning and AI. AI-powered apps improve performance and efficiency. Machine learning analyzes data sets to determine patterns, insights, and solutions that can be utilized to automate and optimize business.  
Quantum computing
It is an emerging field that uses the principles of quantum mechanics in order to perform complex computations. It solves the problems that are currently beyond the abilities of classical computers and so has the potential to revolutionize the bespoke software development process. This technology will be able to accelerate data analysis, simulation, and optimization, and open up brand-new possibilities. 
The trend of low code development will continue
Low-code app development opens the door to creating apps with minimum coding. So, low-code and no-code development platforms will have a huge impact on the development process by enabling developers to create complex apps with very minimal coding knowledge. 
Internet of Everything (IoE)
While IoT is transforming industries, IoE takes connectivity to the next level. IoE aims to connect not only devices but also processes, people, and data. This interconnectedness creates striking, new opportunities for software development, allowing businesses to use automation and the power of data on a larger scale. 
I hope you are now clear with some notable trends that are going to shape the future of software development in the near future
To know more about some exciting custom software development trends playing a key role in businesses, take a quick look at the blog
Now a question may cross your mind now, Where can I get a reliable and suitable custom software development service for my business?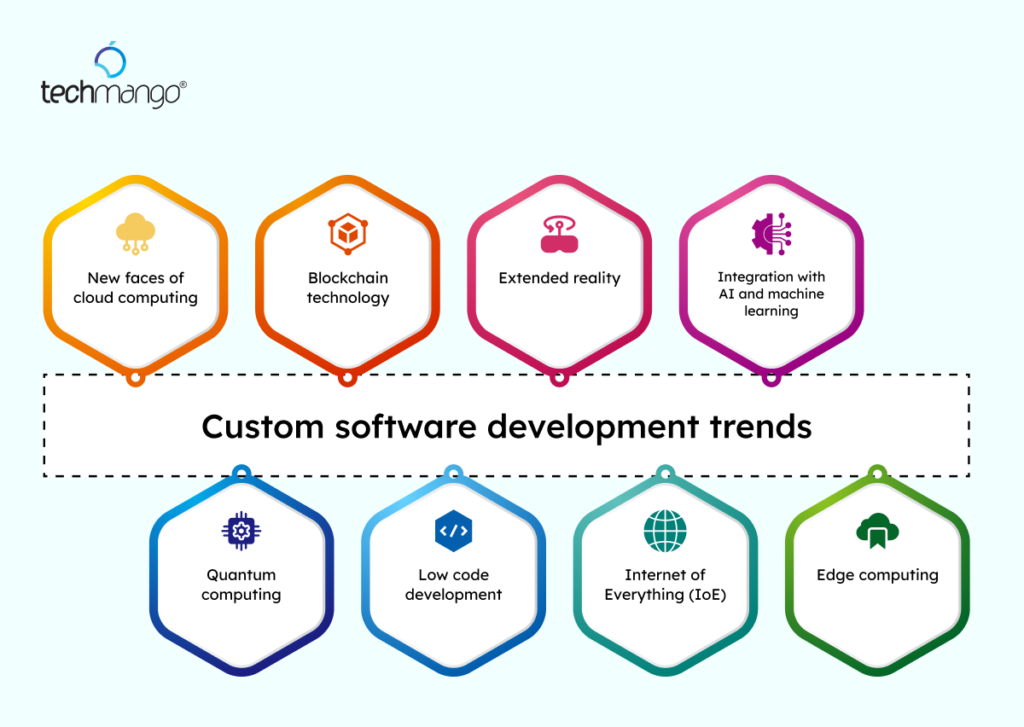 Techmango for your comprehensive software development needs
According to me, it would be a smart option to reach a renowned IT service provider like Techmango to get robust software development services at the best prices.
You may wonder, How Techmango can play a key role in my custom software development journey.
Techmango has a proven track record of excellence in delivering excellent digital business solutions and services over the years. It also excels in embracing cutting-edge tools and technologies and facing arduous business challenges.
It has worked with many reputed global brands such as IKEA, TVS Eurogrip, Prime HealthCare Group, TVS Electronics, BBraun, Honeywell, Coats Global Services, Tech Mahindra, etc.
When it comes to Custom software development, our highly skilled experts focus on carrying out a complete and flawless development process that satisfies your business needs, and helps you arrive at custom software that you will embrace!
We make use of some advanced tools and technologies such as DotNet, PHP, Java, MERN (MongoDB, Express, React, Node), and MEAN (MongoDB, Express, Angular, Node) stack, etc
Techmango can serve you as your most trusted custom software development partner by collaborating with you for
Offshore software development partnership
Center of Excellence (CoE) for custom software development services and solutions
Dedicated team/ Extended IT Arm support/ Resource provider
IT Consulting services to handle your software projects
Materialize your custom software dreams with us…
I hope you have now gained valuable insights into software development and its future innovations awaiting in the near future.
So, get ready to give life to your custom software development dreams by reaching out to us and making use of our impeccable services
Does this blog provide you with all the essential details you need about software development? If you are looking for more sections under this topic, leave your comment below
You will see those inspiring details in my next blog post.