It is a well-known fact that digitalization has now turned from a fancy trend to a necessity for millions of businesses across the globe. Demand for IT services is growing constantly these days. As the software sector is becoming highly competitive, businesses are looking for a smart, innovative, and cost-effective way to stand out from the crowd. Here is where Offshore software development comes into the picture.
To start with, you need to know, What is meant by Offshore software development.?

It is a business process outsourcing method in which an enterprise, a startup, or a big organization will outsource some or all of its software development services to developers or a software development company located in another country.
You may wonder now, Why choose Offshore software development?
To make you understand better, here I will list down some key advantages of offshore software development services.
Access to a global talent pool
Cost savings
Increased scalability and flexibility
Ensuring security by mitigating risks
Better resource management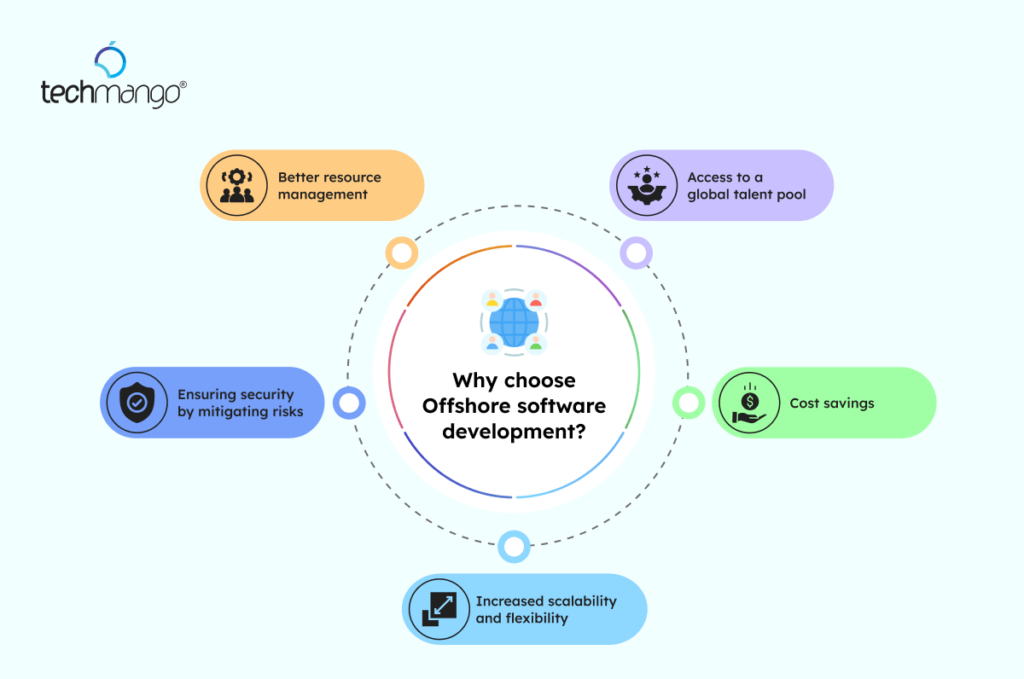 I hope you are now clear with some key benefits of making use of reliable offshore development services to turn your software development dreams into reality.
Do these points kindle your interest in you to know more about some exciting offshore software development concepts?
If yes, then continue to read the blog
As an entrepreneur, you may have a doubt, Who can benefit greatly from offshore software development?
There are businesses that may be thriving out there but having it difficult to handle the ever-changing technology. So, people lacking IT knowledge can go for offshore software development teams in order to fix particular requirements.
In addition to this criteria, other companies having in-house teams but finding it hard to reach the required targets can make use of offshore software development services to enhance their performances.
But, as an aspiring proprietor looking to make the most out of offshore software development, you need to understand that some risks associated with offshore software development must be faced positively and effectively to come out with flying colors.
Let us see those now.
Latest Blogs

Maximizing Your ROI: Why Investing in a Offshore Dedicated Software Development Team is Worth It
Challenges you may face in offshore software development
Data security
Outsourcing the software part is a quite complicated task and one needs to safeguard sensitive information from offshore software development centers. Working with an offshore development center may include cloud data storage and remote teams exchanging data through collaborative tools. So, it becomes essential to be cautious of development abuses and personal data leaks that may occur.
Lack of communication
Communication is significant for the success of any software project and is crucial for understanding the development progress of a venture. However, the offshore developers are not physically present in order to respond to your issues as there will be huge time zone differences between the two of you.
Lack of communication will result in a loss of perfect development projects so communication should be managed effectively by both the clients and their software development teams by maintaining a clear understanding of the expectations from both sides right from the start of the project.
Quality issue
When choosing an outsourcing company, there may be some notable discrepancies in the quality of work delivered. So, it is a must to utilize resources that promise to offer the right quality of work. Some teams may offer you a lower price but there is a chance to cut corners on the work quality. You can request code samples to make sure that they are doing quality work. You can also look into the background and previous client records of the business before signing the contract with them. You can also check out a few things to ensure the work quality. Those are
Number of years of experience
Technology expertise
Approach towards bugs, flaws, and how fast they can resolve it
Lack of supervision and transparency
Offshore development teams are self-managed so this can be both a benefit and a drawback. If you wish to supervise the work of your hired staff personally it will be quite difficult for you to cooperate with the offshore team. In the case of long-term projects, you can arrange for a visit of the project manager to your company or you may visit the location of the offshore company directly. However, this may involve additional costs for travel and accommodation.  
Need for additional coordination
Even if you assign the whole software development process to a remote team, you may need to allocate one or more managers to stay in touch with it. This way your managers will be able to manage minor problems right away and inform you immediately about all the matters that need your personal involvement.
From the above sections, you may be now clear that the benefits of offshore software development are undeniable and can save you money, time, and other vital resources. 

But, Where can I get a felicitous offshore software development service for my business? will be the prime question crossing your mind now.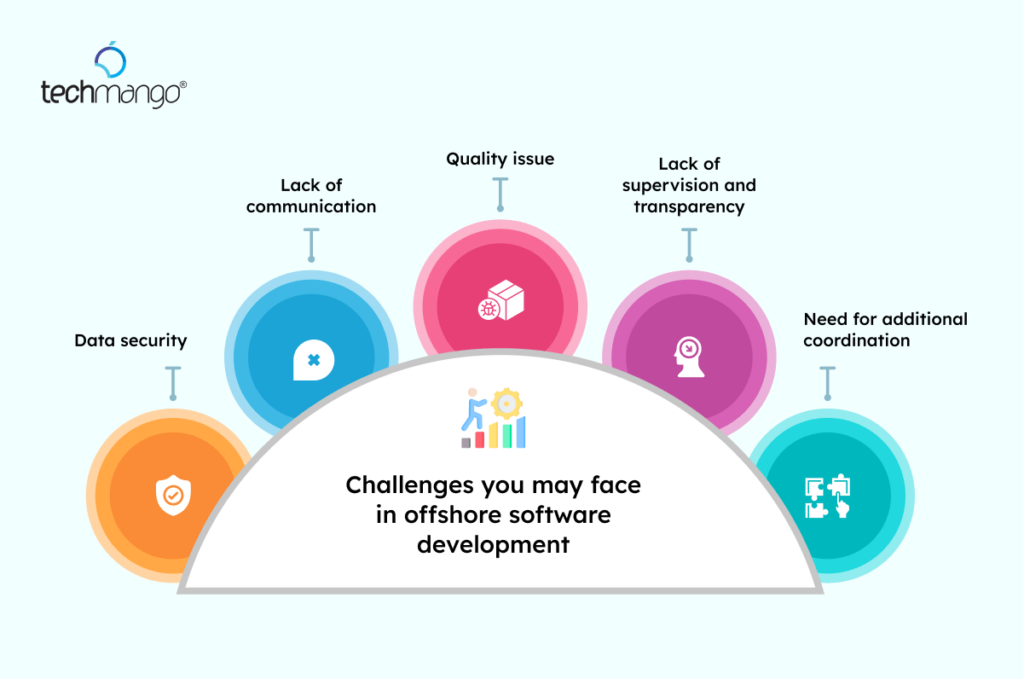 Techmango – A Perfect place to build your dream software effectively
Techmango is a leading IT service provider offering best-in-class digital business solutions for multitudinous business verticals for more than a decade. It has been delivering awe-inspiring offshore development services for businesses ranging from startups to Fortune enterprises.
With its dedicated and high-caliber talent pools of 400+ experts, Techmango serves as a trustworthy technology offshore partner to handle your IT needs and projects within your budget. So, whatever may be the core functionality and size of your business, Techmango can help you grasp opportunities in the competitive marketplace.
Recent blgs

How Custom Offshore Software Development Services Can Drive Innovation in Your Business
Our domain expertise covers healthcare, eCommerce, logistics, education, entertainment, real estate, travel and hospitality, and so on.
In a nutshell, we take the weight off of your team and improve the quality and profitability of your business with:
Unfettered access to a determined talent pool of skilled professionals
Giving you an edge to scale easily to attain the business goals
Faster project delivery with enhanced quality and cost reduction
Also, embracing the latest technologies is our forte and that includes certain Open Source tools such as Java, MEAN, MERN, Bootstrap, Python and Microsoft tools such as SharePoint, .NET Core, etc, and other technologies such as Ionic, Flutter, Xamari, AWS Glue, Azure Data Factory, and many more.
To know more about our expertise and the custom solutions that we deliver for global clients, have a quick glance at Techmango
In addition to these, Techmango can also serve you by collaborating with you as your
Offshore software development partner
Center of Excellence (CoE) for comprehensive IT services and solutions
Dedicated team/IT Staff augmentation/Resource provider
IT consulting services to manage your software development projects
So, reach us and get ready to elevate your business growth right away with spellbinding offshore software development services
I hope this blog will have enough insight into some remarkable offshore software development concepts. If you are interested in knowing more about this topic, comment below
You will see those interesting inclusions in my next post