Have you ever wondered why mobile phones are becoming a significant business tool nowadays in addition to a medium of communication?
According to a recent report, there were around 7 billion mobile users across the globe in 2021 and obviously, this number will exponentially rise in the coming years. This is because mobile phones have become an integral part of day-to-day lives over the past decade. Different mobile apps are utilized by media and marketing industries to engage their audience base seamlessly.
So, without any surprise, mobile app development is the ultimate need of the hour for businesses to maximize operational efficiency and reach potential customers. Every business is in a position to integrate the latest mobile app development trends which are significantly impacted by software technology enhancements, customer demand, and other related factors.

As an entrepreneur, you need to understand that to meet the demands and needs of end-users, mobile app development is at its peak now. Mobile apps will pave the way for surprising new business opportunities and it may be pretty challenging to make your app stand out from other competing mobile apps. So, you need to get acquainted with some significant mobile app development trends and use them effectively to create sturdy mobile apps for your business.
In this blog, you will learn some fantastic trends that will shape the future of mobile app development and where you can get a suitable mobile app development service that perfectly fits your business needs.
Mobile app development trends to watch in 2023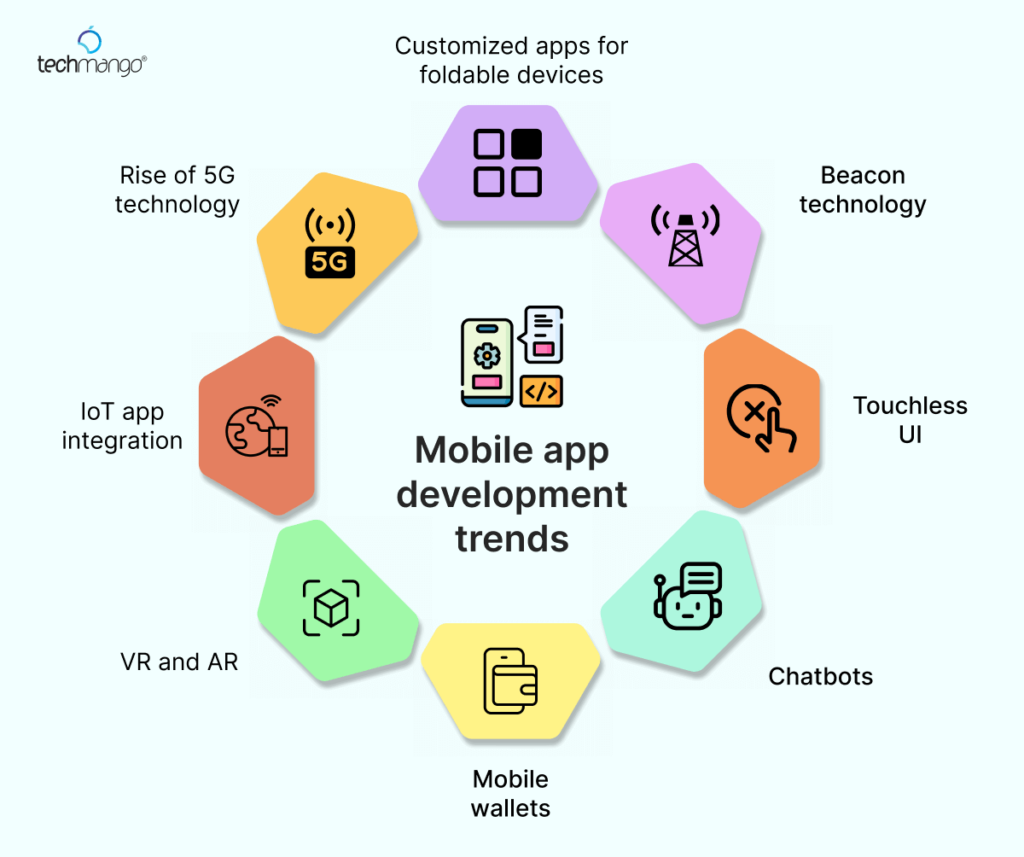 Rise of 5G technology
5G is the next generation of mobile networks and a recent Statista report states that the total estimated 5G subscriptions across the globe will be around 1.9 billion by the end of this year and will reach 5.9 billion by the year 2027. The emergence of 5G will enhance the functionality of mobile apps that will open the door to include new stunning features to the mobile application.
Customized apps for Foldable devices
Foldable smartphones and tablets are gaining popularity these days as they provide larger screens as required and can be folded easily at convenience. User demand is accelerating the trend of mobile app development for foldable devices in recent years. So, when you plan your mobile app development strategy, you need to ensure that your application runs seamlessly on foldable devices enriching the user experience. This trend goes the same for wearable devices where you can personalize your app as per your target customer's wearable choice.
IoT app integration
The increasing use of mobile devices in different sectors and areas opened up innumerable possibilities for IoT. Nowadays mobile app developers are incorporating this technology into mobile applications. With this, IoT devices can be easily monitored and controlled using the smartphone through a single application. In the near future, we can surely expect a surge in mobile app development tailored to IoT. Enthralling advancements are expected in certain areas such as household devices, display devices, automobiles, smart devices, etc.
Virtual Reality (VR) and Augmented Reality (AR)
VR and AR are transforming the mobile app development sector and this will face an upsurge in the coming years too. These technologies will soon become mainstream in the mobile app development trends and will offer many stunning possibilities for users and developers alike.
Beacon technology
This location-based technology utilizes the bluetooth of the smartphone to identify the proximity to a hotel, store, enterprise, etc. This technology opens a whole world of possibilities for location-based interactions and services. Beacons can help you enhance marketing campaigns to attract more customers. But, these days only a very few organizations are leveraging the capability of Beacons technology in their applications. In the coming years, this technology will be used widely to build applications that offer interesting aspects such as location-based experiences. It will surely act as one of the most amazing mobile app development trends.
Touchless UI
This is a tremendously growing trend in mobile app development. It enables you to interact with mobile apps without physically touching the screen. With the use of software technologies like gesture control, voice recognition, facial recognition, etc, touchless UI offers a seamless user experience. The future of app development holds enthralling transformations and these innovative approaches will become prominent in mobile app development trends
I hope you will be now acquainted with some interesting mobile app development trends to watch out for in the upcoming years.
But, Where can I get a suitable mobile app development service that will help me keep pace with these emerging trends? will be the question that will cross your mind now.
Get digitized with Techmango's mobile app development offerings
As an ambitious entrepreneur looking to build a sturdy mobile app for your business with futuristic inclusions, you need to approach a leading IT service provider like Techmango which has rich expertise in providing world-class mobile app development services for diverse business models.
Our experts are skilled in various advanced tools and technologies such as iOS, Android, React Native, Cordova, Flutter, Ionic, AdMob, Airpush, and so on.
Its broad range of unique mobile app development service offerings are as follows
Android app development
Feasible Android app development services from our skilled team of Android app developers to build your own custom Android app and make you grow quickly. Our Android app development services include Android app development consultation, Android UI/UX design, Android software testing, multi-platform deployment, etc
iOS app development
Build next-gen, attention-grabbing iOS apps with our reliable iOS app development services such as iOS UI/UX design, custom iOS app development, multi-platform deployment, etc.
Hybrid app development
Develop a sturdy and feature-rich hybrid mobile application for your business with our unique hybrid app development services such as Ionic app development, Xamarin app, Flutter app development, Phonegap development, Kotlin app development, etc
React Native development
With the rich expertise of our React Native developers, we deliver stunning React Native development services to build eye-catching, feature-packed mobile apps with exceptional UI and performance.
Cross-platform app development
Develop matchless cross-platform apps for your business in order to snatch new-age business opportunities and drive innovation with our striking cross-platform app development services.
IoT app development
Our specialized IoT team with immense experience in state-of-the-art technologies and tools helps you build intelligent, bespoke, and futuristic IoT apps for your business growth. Some of our notable IoT app development services include IoT app development, IoT gateway development, voice-enabled technology solutions, and so on.
Wearable app development
Make your brand platform independent with our comprehensive app development service for wearable devices. Uplift your business growth with our expertise in the development of Smart band apps, Wearable payment apps, Smartwatch & AppleWatch apps, etc.
TV app development services
Our Smart TV App developers excel in building attention-grabbing applications for leading platforms like Apple TV & Android TV using OEM OSs to produce a multi-platform smart TV experience.
Game app development
Give life to your game app ideas with our innovative game app development services that include 3D game apps, iOS and Android game apps, AR/VR game apps, cross-platform game apps, and so on.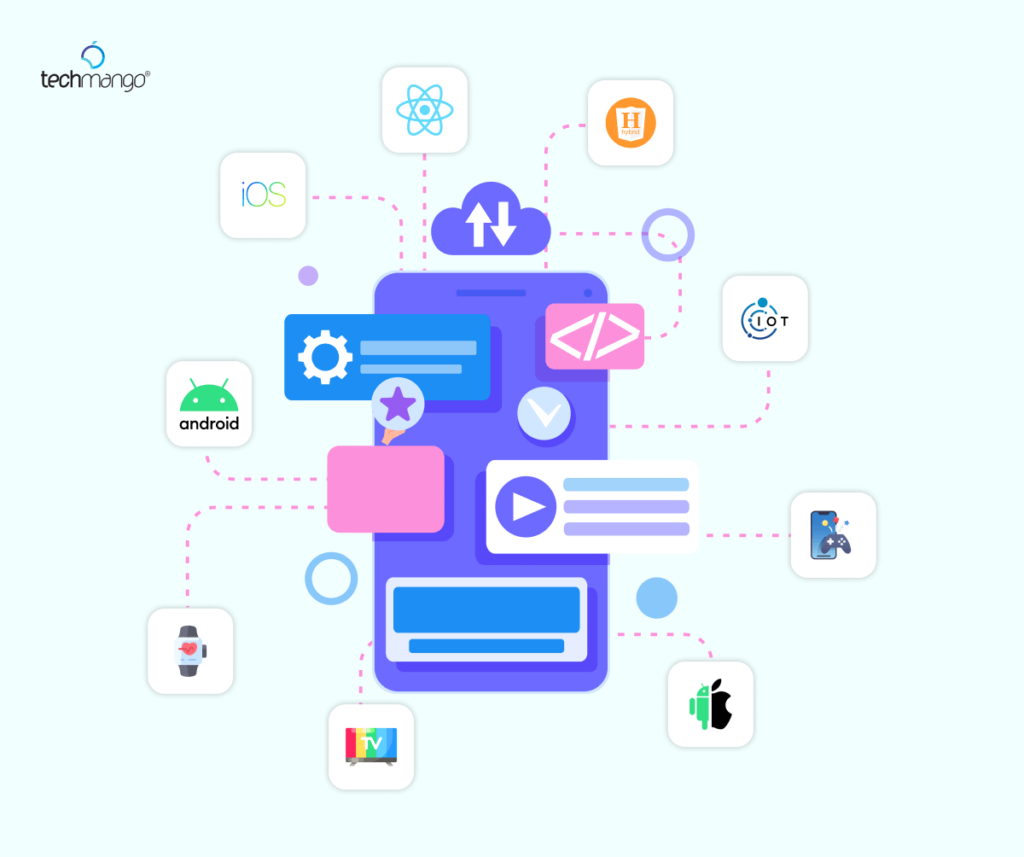 Get ready to conquer the digital world by building sturdy mobile apps
I hope you will be now clear about how partnering with Techmango for its Mobile app development services will help reinforce your business growth by building powerful mobile apps with seamless performance.
Techmango can collaborate with you for
Mobile app development offshore partnership
Center of Excellence (CoE) for complete mobile app development services and solutions
Dedicated team/Extended IT arm support/Resource requirements
IT consulting services to handle your mobile app development projects
So, if you are looking for a smart and best way to develop your own custom mobile application for your business, do not hesitate to reach us.
Check our portfolio to know more about our immense expertise in mobile app development and get ready to build a bright future for your business with us!