Mobile applications are everywhere. Whether it is about shopping online, networking, banking, or reading news, mobile apps have a significant share of users all around the world. Businesses these days need mobile apps to provide access to their products and services to their target audiences and make their lives easier.
For that purpose, companies like Techmango Technologies Services Private Limited help businesses establish a strong presence amidst the mobile app technology world and stay ahead of their competitors. From implementing the simple Push notification feature to integrating the latest technologies into an app, Techmango can help you in taking your business to new heights through their flawless and modern mobile app development services.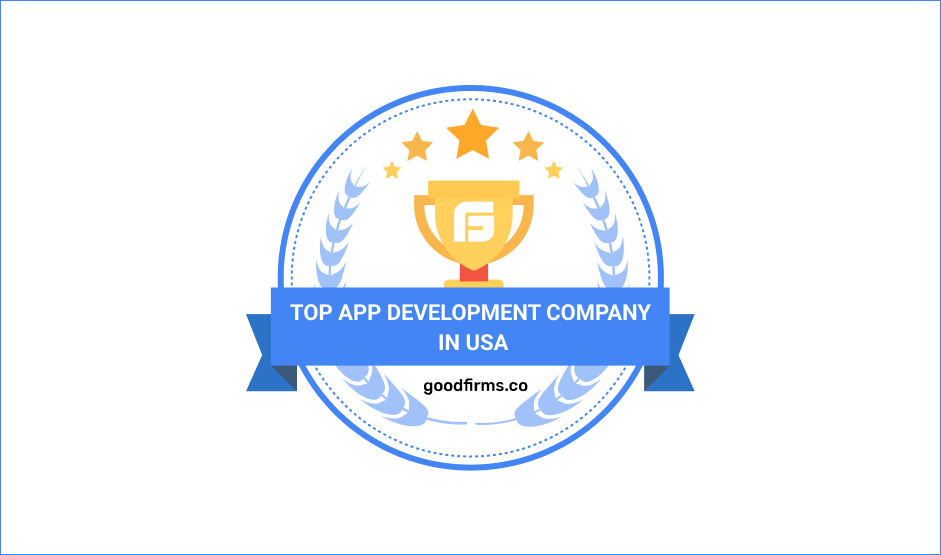 Techmango Technologies – An Overview
Techmango is an Indian digital transformation and IT consulting company that offers growth-enabled innovative insights and software solutions to world businesses. Established in 2014, the company is recognized as one of the fastest-growing digital services companies, with more than 400 developers working here. Having a corporate office in New York, USA, the company is also planning its global extension by implementing a modern and strategic development approach.
Techmango Technologies highly values transparency and extensive communication to meet the needs of every client. So far, it has successfully executed over 180+ tech projects, developing 50+ software products and more than 50 applications for its 100+ clients worldwide.
The company believes in engaging its valuable client base by involving dedicated teams to work on fixed prices for development, time and material costing, and complete product transformation and re-engineering. It actually helps enterprises to reconsider their business and more efficiently accomplish digital services to retain client interests. It is recognized and appreciated by many third-party companies and rating platforms and has been awarded as the top app development company in USA by GoodFirms due to its service excellence in the app development industry.
Techmango's High-Performance Tech Services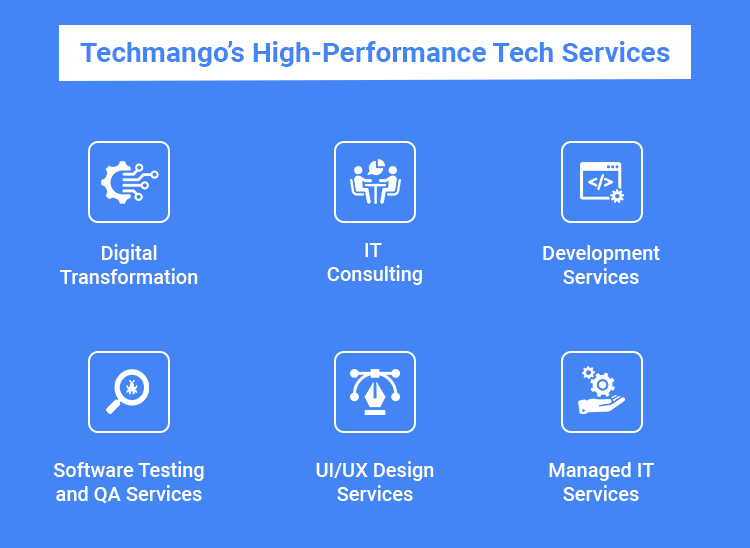 The two imperatives for which the company is known best among its clients and competitor base are – the best digital experiences and a higher retention rate. The company provides full-cycle development services based on the latest technologies, trends, and tools. It is a trusted offshore development partner to many businesses guaranteeing excellent quality, timely delivery, and absolute satisfaction to help companies to become more successful in the future. Some of the top-notch services offered by the company from its valuable service stack are:
Digital Transformation services through electronic data interchange, ruby on rails development, business intelligence services, creative services, and enterprise integration services
IT Consulting services include IoT development, cloud computing, AI/ML development, blockchain development, big data consulting services, database migration services, and offshore software development
Development Services cover custom software development, custom web app, PHP, dot net, and react native development, and mobile app, iOS, Android, hybrid, and cross-platform app development.
Software Testing and QA Services
UI/UX Design Services
Managed IT Services
Techmango deeply treasures its partnership with partner companies and businesses that have always acknowledged its potential and believed in its strengths and abilities. Some of the trusted partners of the company are figured below.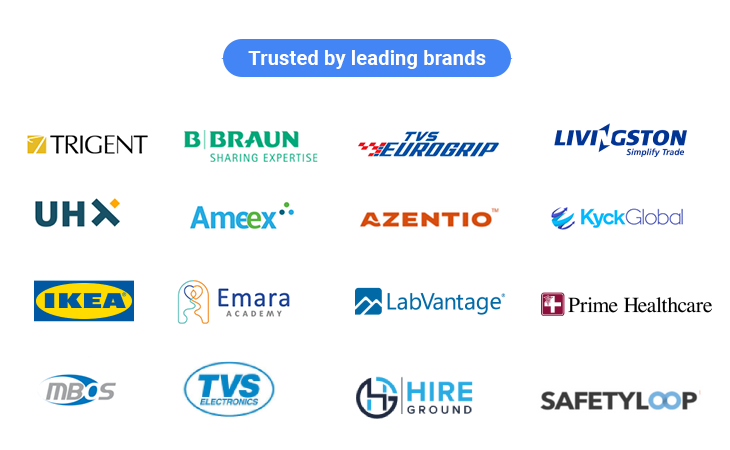 What clients say about Techmango is extremely interesting to read. The company is highly admired for its outstanding serviceability and for treating customers the way they want. Let us glance at a client review to understand why it is highly valued among its customers.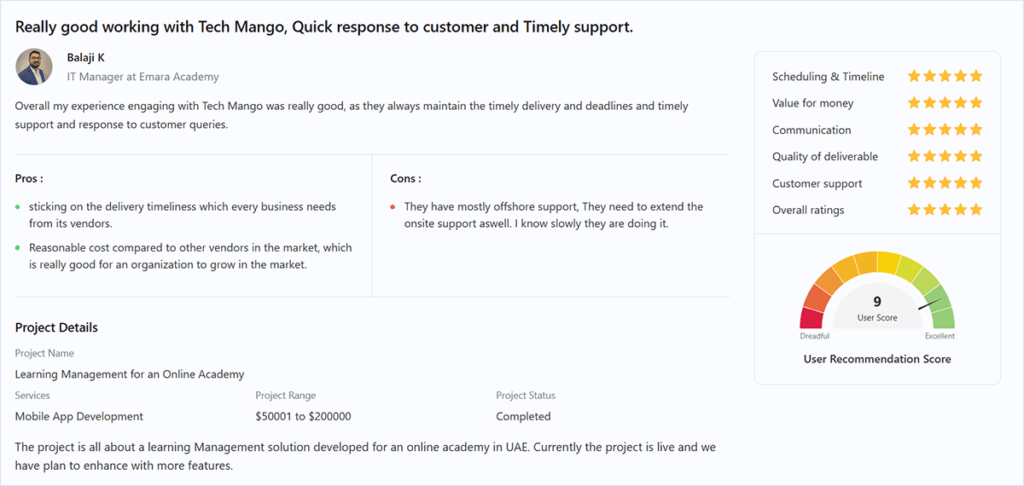 GoodFirms Research Methodology
The more positive client reviews a company acquires, the more chances it has to rank higher in GoodFirms rankings. As a helping and connecting platform for many B2B companies, GoodFirms assures potential companies to secure profitable positions and help themselves make better growth decisions. A highly experienced and dedicated research team at GoodFirms has worked on more than 2,000 research and surveys for more than 1,10,000 companies and businesses listed on their site.
Conclusion
Techmango makes all tech projects seamless for its clients. It is a friendly development partner to all who need professional, innovative, competitive, and transparent solutions to execute their business. The company is crazily attaining the interest of its partner companies and helping to meet their goals by supplying top-class services where fabulously built mobile applications top the charts.
About GoodFirms
GoodFirms is a leading ranking platform for businesses seeking their significant establishment in the field of information technology. It helps software vendors and IT companies connect and mutually benefit from growing together. The rankings are updated continuously, and review scores are given based on their intensity.
About the Author
Working as a Content Writer at GoodFirms, Anna Stark bridges the gap between service seekers and service providers. Anna's dominant role lingers to form every company's achievement and critical attributes into words. She strongly believes in the charm of words and equips new approaches that work, always with concepts, something new to create, and something unique to enhance the firm's identity.