In today's digital era, mobile apps have become an integral part of our lives and a significant aspect of business success. From small-scale businesses to large enterprises, everyone utilizes mobile apps to boost their audience engagement and increase revenue and productivity.
As per the recent study conducted by Statista, 258 billion global users have downloaded mobile apps and this number is expected to grow tremendously in the coming years. Also, the global mobile application market revenue is expected to reach 935 billion USD by the end of this year.

So, it is very obvious that the usage of mobile apps has been increasing rapidly and it helps businesses in enhancing their visibility and productivity. It should be also noted that in the current market environment, it is quite essential to have an app that is compatible with different platforms and devices and this is where the requirement for cross-platform apps comes into play.
If you are interested in knowing more about the role of cross-platform app development in elevating business success, then this blog is for you.
Here you will get insight into the key benefits of going for cross-platform app development to succeed in your business and what are the prime challenges that you may face in cross-platform app development.
Let's delve into the topic
Significance of cross-platform app development for businesses
As you may already know cross-platform app development includes the whole process of building a mobile app that can run seamlessly on various devices and operating systems such as Android, iOS, etc. The importance of cross-platform app development is quite big and here are some unique reasons for it
Time and cost-saving
Building a platform-specific app will be time-consuming and quite expensive. But in the case of cross-platform app development, you can develop apps for multiple platforms and can save money and time.
Consistency
Cross-platform app development paves the way for maintaining consistency across all platforms for both user experience and brands. This will create a smooth experience for the users.
Maintenance
As you may be already aware, maintaining apps for different platforms will be complex and time-consuming. Whereas when the app is built utilizing the cross-platform technology we can just make necessary changes to one single codebase and roll it out across multiple platforms, thereby saving resources and time.
Audience reach
The cross-platform mobile app can reach a wider audience base as the app can run on various platforms. Businesses that target different users can make the best use of this app development strategy to succeed in grasping the attention of their global audience base
Scalability
Cross-platform apps are scalable as these apps can be modified and updated quite easily depending on the changing requirements of the businesses and users.
Flexibility in selecting the development tools
Cross-platform development frameworks come with different development tools and programming languages. This provides businesses the flexibility to select the right platform that best suits their development expertise and business needs.
To learn more about the benefits of developing cross-platform apps, you can take a quick look at the blog
From the above points, it is pretty clear that cross-platform app development will help you never miss the opportunity to win a big mobile market share with an application that suits all main operating systems.
But as an entrepreneur, you need to understand how the cross-platform landscape is continuously evolving. Listed below are some key trends to watch.
Latest Blog

From Idea to App Store: The Essential Guide to Partnering with a Trusted Mobile App Development Company
Improved performance
Cross-platform frameworks are enhancing their performance continuously thereby making it harder to differentiate between native and cross-platform applications
Integration with emerging technologies
Cross-platform development is integrating smoothly with many emerging technologies such as virtual reality (VR) and augmented reality (AR), opening up innumerable possibilities for application developers.
Expansion of Cross-platform libraries
More plugins and libraries are becoming available, providing developers with improved functionality and greater flexibility.
Growing developer communities
The communities around cross-platform frameworks are rapidly expanding, providing valuable tutorials, resources, and support for developers.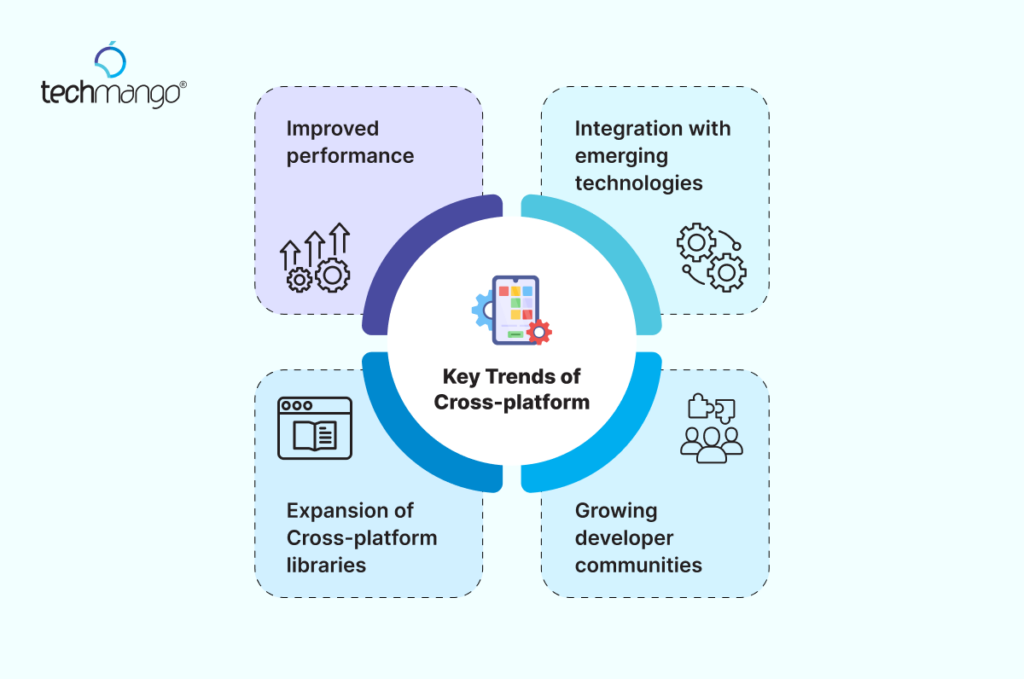 As I have mentioned earlier many cross-platform app development tools are available such as React Native, Flutter, Ionic, Xamarin, etc, and choosing the perfect development tool is a must to succeed in your business venture
The selection should be made based on your needs and concerns. In addition to this, tools are getting updated regularly so keeping an eye on that becomes essential as well. I have listed below some vital factors to be considered before selecting a suitable cross-platform mobile development tool for your business.
Latest Blog

Discover the latest trends in React Native app development to unlock the true potential of React Native
Reliability
It is good to know what well-known companies utilize for their applications. For instance, Facebook can be taken as a benchmark.
Budget
When budget plays a key role in the mobile application development process, you can go for open-source, cross-platform app development tools.
Support of tools
Be wary of the support of cross-platform mobile app development tools. If you notice any problem while building your app, you can address a community to solve the issue.
Ready to transform your mobile app vision into reality?
Are you keenly interested in materializing your mobile application vision? Your search ends here. Techmango with its accomplished team of experts is highly skilled in developing remarkable and feature-rich cross-platform applications for multitudinous business models.
With a proven track record of successful projects worldwide, we will be committed to taking your cross-platform app development vision into reality
Techamango can partner with you for
Cross-platform app development offshore partnership
Center of Excellence for complete cross-platform app development services
Dedicated team/IT staff augmentation/Resources for cross-platform app development projects
IT consultation services to turn your app ideas into reality
So, Don't just dream. Unlock the full potential of your application idea by partnering with us. Embark on a triumphant mobile app journey with us
Looking to see more interesting topics under cross-platform app development?
If yes, comment below
Stay tuned for more exciting and informative sections in my next post.