In this digital era, cloud migration is taking center stage in the IT world and is transforming businesses like never before. So, the cloud is more than just the future as innumerable businesses are embracing the scalability and power of the cloud right now. But, they are not very clear about the abundant cloud migration opportunities. 
According to a recent report, 50% of organizations are investing more in cloud platforms while minimizing expenses on legacy infrastructure. So, without any second thought, enterprises should understand the importance of cloud migration in order to stay ahead of the curve in this ever-evolving digital market.

Before delving further into the trending topics and other significant cloud migration concepts, you should clearly understand,
What exactly is cloud migration?
It is the process by which an organization's digital assets, services, resources, or apps are deployed in the cloud where the migrated assets cannot be acquired beyond the cloud's firewall.
As you may already know, cloud migration is vital for attaining real-time and updated performance and efficiency. In a nutshell, successful cloud migration will minimize cost, enhance scalability, and reduce the risk of a cyber incident that could disturb your business.
This process needs careful analysis, planning, and execution to ensure the compatibility of cloud solutions with your business requirements.
If you are interested in knowing more about cloud migration concepts and trends, this blog is totally for you.
Continue reading to gain insight into this astonishing subject.
Why embracing cloud migration is imperative for the growth of an organization?
As mentioned above, cloud migration revolutionizes the game and offers exciting ways for businesses to improve efficiency and drive innovation. Let us see in detail why you should accept this trend:
Cost reduction
Cloud migration eliminates the requirement for maintenance and expensive server equipment, minimizing operational expenses. Switching to the cloud means you need to pay only for what you utilize, no need to maintain costly data centers when your key data is hosted in the cloud.
Scalability and flexibility
Launching additional cloud resources will be very easy, fast, and cost-effective. So, cloud computing reduces wastage and improves ROIs.
Sustainability
Another notable benefit of migrating to the cloud is it avoids paper wastage, overt electrical utilization, and PC-related emissions. Thereby, minimizing an organization's carbon footprint.
Other remarkable advantages of migrating to the cloud are
Enhanced data security
Mobility
Complete authority
Disaster recovery
Automated updates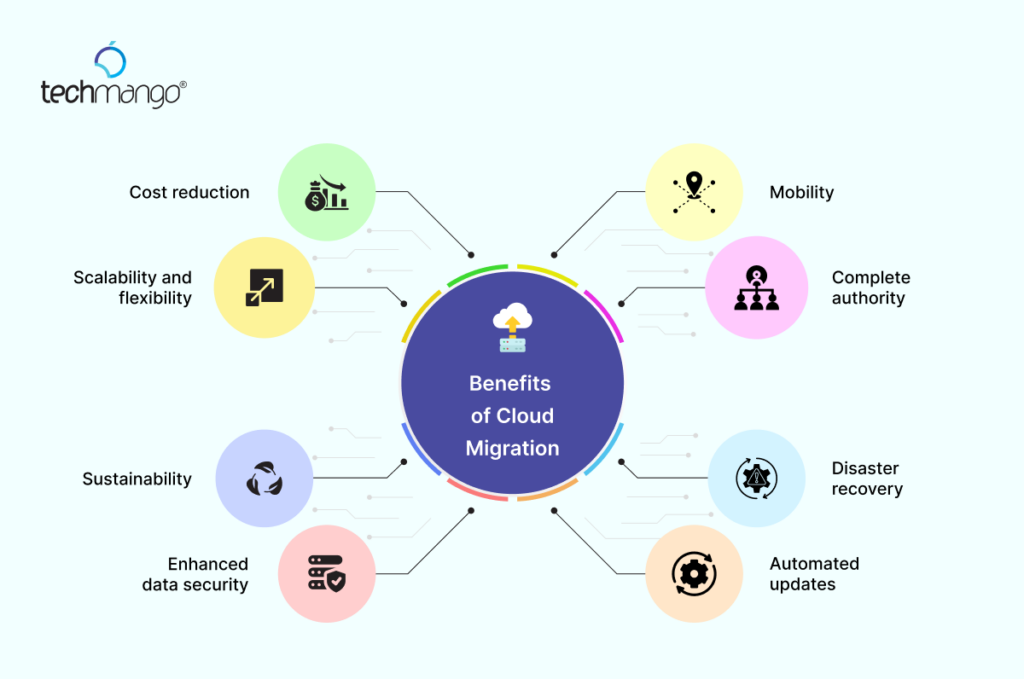 I hope you are now clear with the cloud migration concepts and key benefits for businesses. As an entrepreneur, you need to get acquainted with some significant cloud migration trends that will have a main impact on businesses now and in the future. Let us see those now.
Cloud migration trends to watch out for in the upcoming years
Domination of multi-cloud and hybrid cloud
Nowadays, many businesses are adopting hybrid cloud and multi-cloud architectures which means they are utilizing multiple clouds at once. This is entirely different from the scenario where companies use one cloud provider for all their requirements. Multi-cloud solutions will provide improved reliability and scalability that single-cloud solutions cannot. Whereas with a hybrid cloud architecture, companies can ensure that apps and data can move smoothly between private and public clouds or between different cloud providers when required.
Rise of cloud security and governance
You might already know that cloud security and governance are playing a bigger role currently. Many businesses shift to the cloud and thereby bring attention to how their data is safeguarded. In addition to customer data security, organizations want to ensure compliance with regulatory laws. This is where cloud security and governance come in significant aspects of global cloud strategy.
Automation and AI will streamline cloud migrations
In the near future, businesses will use AI and automation for cloud migrations to facilitate the process and allow for greater efficiency in migrating to the cloud. Simply by automating routine maintenance tasks, automation solutions can greatly help businesses operate their cloud environment effectively.
Analytics drives data migration
Data is the cornerstone of effective software deployments, system-studying innovations, and analytics workflows. When shifting data to the cloud, you need to realize wherein you are shifting it for particular use cases, community assets available, and the varieties of data you are shifting, amongst various considerations. To be competitive and agile, IT teams should evolve from storage management to a comprehensive data management strategy. Business leaders are developing certain cloud migration strategies in order to make sense of the changing business environment.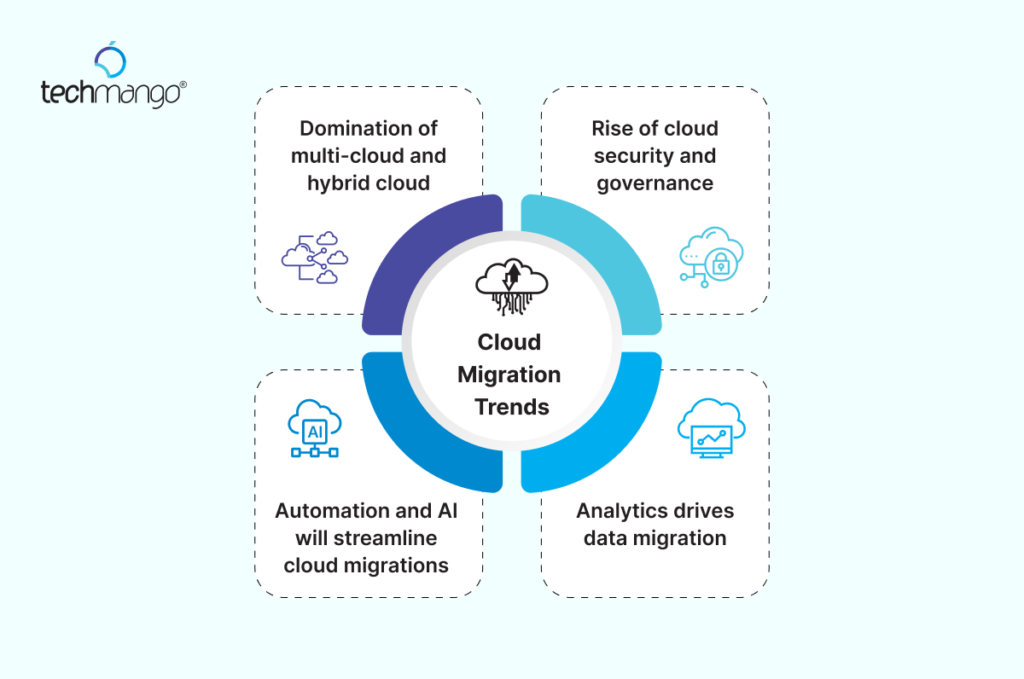 Approach a feasible cloud migration service provider to materialize your dreams
From the above sections, you will be now clear about the cloud migration benefits and its latest trends. You need to understand that there are certain cloud migration challenges that you might face in your business such as:
Incompatible infrastructure between clouds
Lack of support for existing security policies
Migrating apps with dependencies
Cost of refactoring and rewriting apps
Lack of strategic planning
To overcome these challenges and succeed in your cloud migration activity, you need to approach a reliable cloud migration service provider like Techmango which has rich expertise in delivering top-notch IT services and solutions for multitudinous business verticals. 
Techmango's exemplary cloud migration services help you build a cloud computing environment that allows you to move to the cloud smoothly.
Some of the outstanding benefits of our cloud migration services include simplification of infrastructure management, assurance for disaster recovery, optimization of cloud costs, and so on. It also uses some of the latest technologies and tools such as Amazon web services, Microsoft Azure, Google Cloud Platform, and so on.
Also, Techmango can collaborate with you by serving as your
Cloud migration Offshore partner
Center of Excellence (CoE) for the whole cloud migration services
Dedicated team/Extended IT arm support/Resource provider for cloud migration
IT consulting services for cloud migration projects
So, reach us to get astounding cloud migration services at the best price and elevate your business growth right away.
Check our portfolio to learn more about our immense expertise in cloud migration services.
Willing to see more interesting topics in Cloud migration?
If yes, comment below
You will see those enthralling inclusions in my next post in the near future.